From the Walt Disney World News and written by: Michele
So good! If you're missing these little bits of Disney magic, here you go!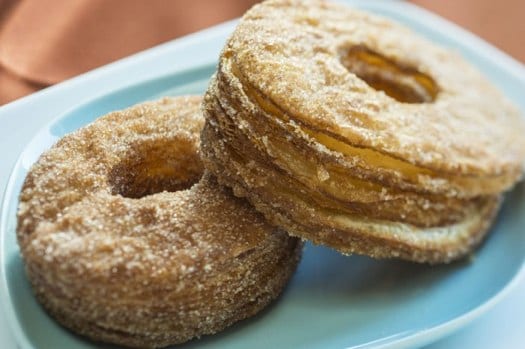 Have you ever had a Croissant Donut at Epcot? They are a little piece of heaven at WDW! The mix of the flaky croissant with a warm cinnamon doughnut is to die for. You can purchase these delicious treats at Epcot in the Refreshment Portal. Most people don't live near Disney property and can't run over to grab a Croissant Donut whenever they get a craving, but you're in luck! I found a recipe for making these at home from the Happy Housewife's website. They are super simple and all you need is a package of crescent rolls, oil, and sugar. Enjoy!
Croissant Donut Recipe
Prep time:  5 mins
Cook time:  3 mins
Total time:  8 mins
Serves: 8
Ingredients
⦁ Crescent rolls
⦁ Canola oil (or any other frying oil)
⦁ Powdered sugar
⦁ Granulated sugar
⦁ Cinnamon
Instructions
⦁ Heat oil in a heavy pan to 350 degrees.
⦁ Open the can(s) of crescent rolls.
⦁ Divide each crescent triangle in half.
⦁ Either create donut shapes or "holes" with the crescent dough.
⦁ Drop dough into the hot oil.
⦁ Fry approx 90 seconds on each side or until ⦁ golden brown.
⦁ Place on a paper towel to drain.
⦁ Top with powdered sugar or a mixture of cinnamon and granulated sugar.
Stay tuned for more Disney inspired recipes!