Thanksgiving Turkey Cupcakes
From the Walt Disney World News and written by: Michele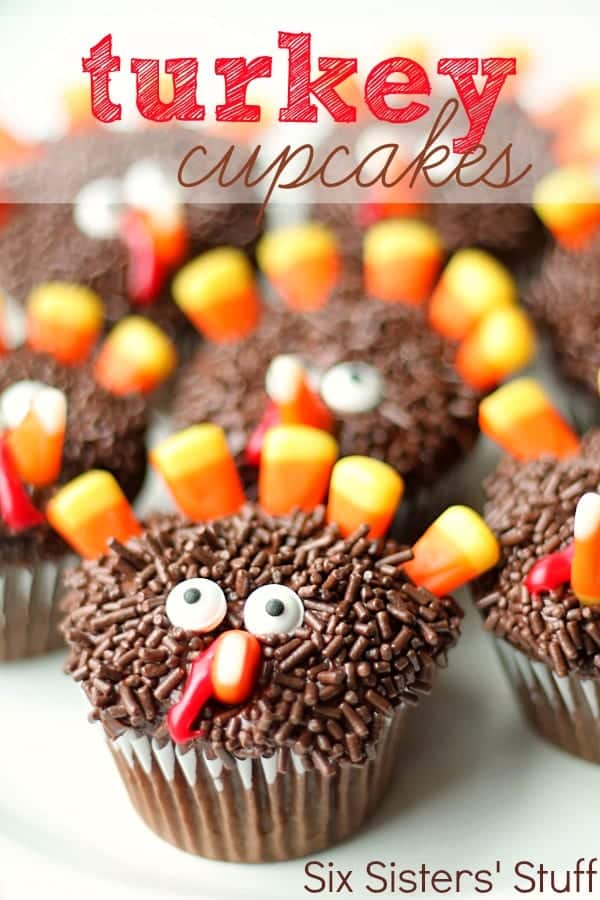 Thanksgiving is tomorrow, and not everyone likes pumpkin pie for dessert, especially little ones. Cupcakes are always a great alternative to any sort of dessert, and these are no exception!
I found this adorable recipe for Turkey Cupcakes on a Pinterest board from Six Sister's Stuff. They always have some cute ideas on their page. This is a cute option to add to the dessert table on Thanksgiving. Best of all, they are pretty easy to make. So let's get baking!
Ingredients:
1 box chocolate cake mix, prepared according to directions for 24 cupcakes
16 ounce can chocolate frosting (or your favorite homemade chocolate frosting)
1 1/2 cups chocolate sprinkles
2 cups candy corn
48 Wilton candy eyeballs
Red frosting
Directions:
Prepare cake mix according to package directions to make 24 cupcakes.  Bake and let cool completely.  Frost each cupcake with chocolate frosting.  Hold cupcake upside down and dip into chocolate sprinkles.  Push 5 candy corn upside down into the top of your cupcake for feathers.  Add two candy eyeballs and push a candy corn into the cupcake for a beak.  Pipe on a little red frosting next to the candy corn beak and enjoy!